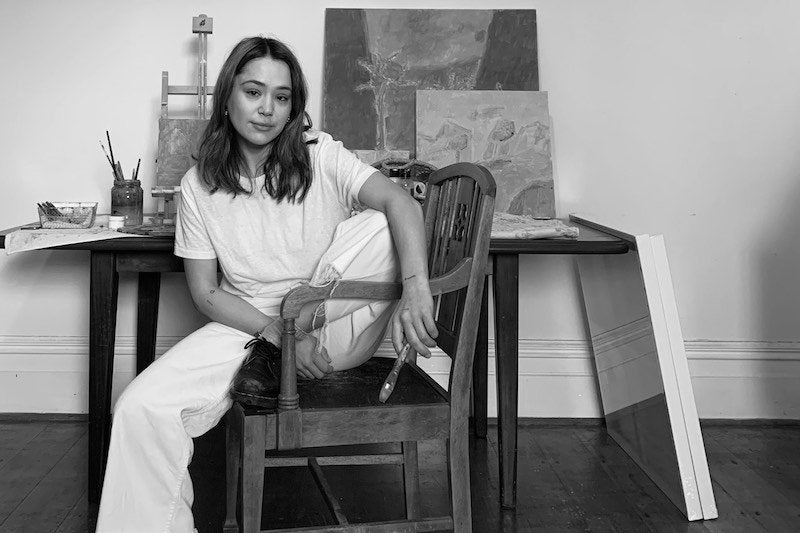 Giorgia Bel is a self-taught painter based in Awabakal Land (Newcastle), who paints real and imagined landscapes in acrylic, oil, charcoal and pastel. Using a subdued palette and gestural mark making, the evocative landscapes showcase the beauty of the Australian outback. After being unwell in her twenties, Giorgia turned to painting for peace of mind and for her own enjoyment. What initially started out as a personal journey has resulted in a rewarding career as a painter.
"My practice is heavily inspired by the Australian landscape and the dreamt or imagined views of this. Exaggerated colour, abstract line and a 'messy' brush stroke may or may not be signature to my work. They are free but not rushed, like a child's mind and play. This is important to me." – Giorgia Bel 
Hailing from Awabakal land (Newcastle), Bel is a self-taught artist, having learnt to be still while a time of sickness forced her into rest. At this time, the artist picked up a brush and some paints not knowing she would find great solitude and comfort through painting, and this is how she came to paint at all. 
Wonderfully, this practice has become a way of living for Bel, and through the situation that was, became a love of her life. With a commitment to her craft and a connection to the land, Bel is drawn to the natural ochres and pigments that are native to the Australian earth.
While Bel's philosophy is deeply entrenched in her cultural identity, in this series she pays homage to the season that's been; Summer-lands. 
Bel's palette echoes what she sees – vibrant colours, surfaces and textures. A sun-drenched, warm Summer. There is a layering of what she sees that is interspersed with what she paints. This and her subjects hum a meditative silence of the bush and landscape of this Sunburnt Country. 
Bel's palette and subjects hum a meditative silence of the bush and landscape of this Sunburnt Country. Her sombre palette and repetition of her subject echo a melancholia in her rhetoric. With looming, skeletal trees in the foreground, a Rothko-like treatment of canvas pulls the viewer in, posing a question – will you take a moment to bask in the silence? This warm, gaping landscape?
Bel's connection to place, childhood memories and surrealist dreamscapes are evident as her paintings speak to her philosophy of art as medicine.
Bel is represented by 5 galleries across Australia, and is in the process of some exciting ventures with textiles and ceramics, with pieces held in private collections across the world.