Paintings from the Wet Season
Timothy Dell
8 December – 21 December 2022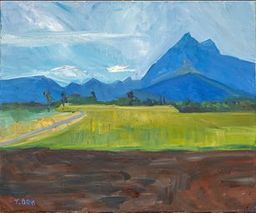 Image: Mount Wollumbin NSW, Timothy Dell, 2022, oil on canvas, 72x92cm.
This exhibition showcases works from Timothy's en plein air tour of Northern new South Wales during the Wet Season from mid November 2021 to late January 2022 just before the floods.
The paintings show Timothy's ability to capture light and form spontaneously and gesturally and his love of the region in which he lived as a young man.