crossing paths
edwina edwards
3–20 august 2023
Crossing Paths presents a new series of paintings by Albury artist Edwina Edwards, crafted as an ode to the bush that surrounds her home.
Created from an amalgam of both life and memory, these painterly impressions of an ever changing landscape embrace the restorative power of a walk in nature.
Crossing Paths is Edwina Edwards' fifth solo exhibition with Brunswick Street Galley.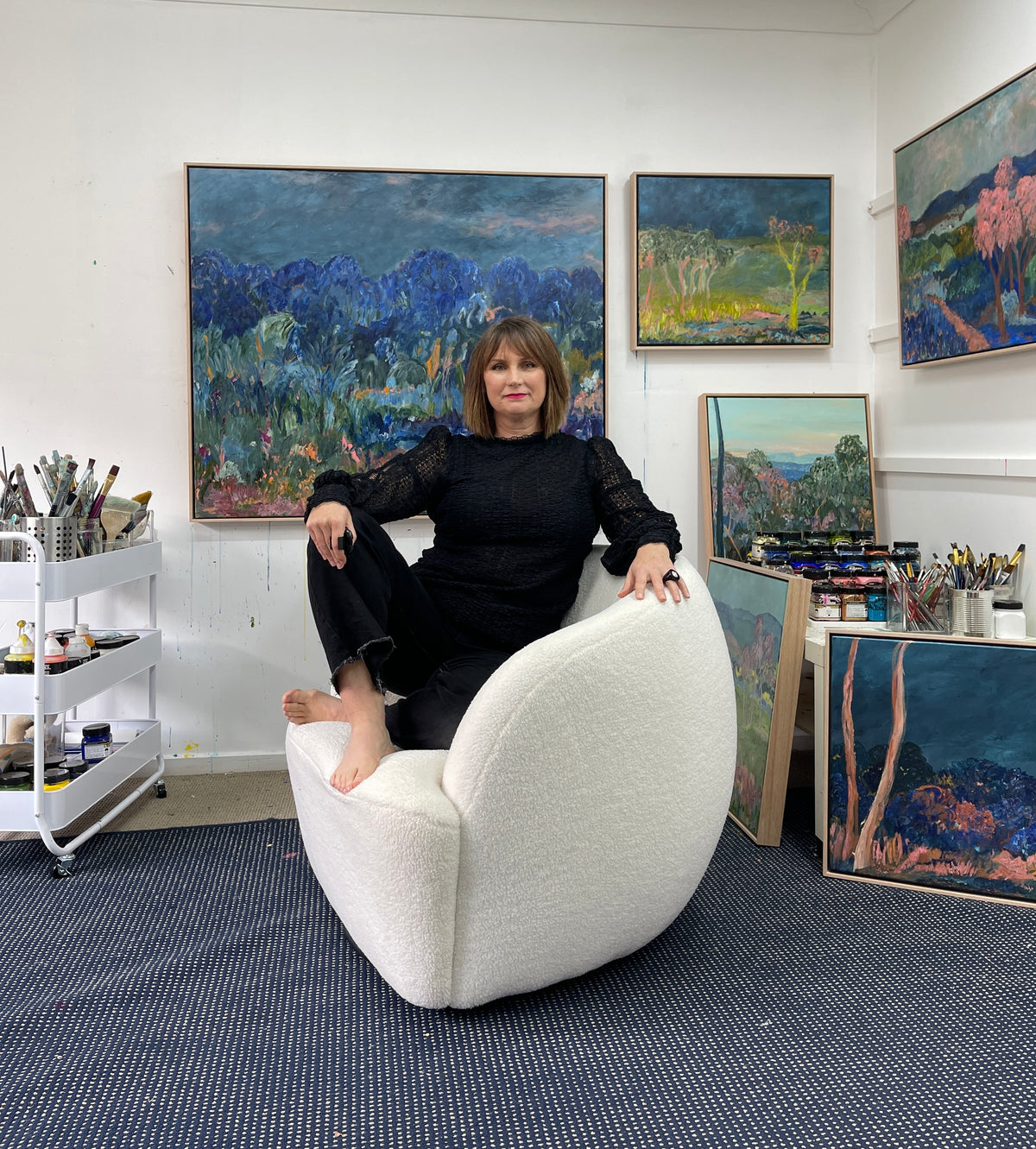 Edwina Edwards is an Australian contemporary landscape painter, based in Albury, NSW.
In 2014 Edwina, with family in tow, returned to Albury. As part of the tree-change she was able to pursue her love of art, returning to study and completing an Advanced Diploma of Visual Arts in 2016. Her abstracted style and passion for colour demonstrate a process of absorption of surrounds, intuitively applying paint to create landscapes rich in colour, rhythm and depth.
Edwina has held four solo exhibitions at Brunswick Street Gallery, 9 Kilometres (2019), Bush Solace (2020), Majestic Capes (2021) and Biophilia (2022), and has curated one group exhibition Regenerative Visions (2021).
Crossing Paths will be Edwina's fifth solo exhibition with Brunswick Street Gallery.
TELL US A BIT ABOUT WHAT A TYPICAL DAY MAY LOOK LIKE FOR YOU AS AN ARTIST. WHERE ARE YOU BASED AND WHAT ARE SOME OF THE THINGS THAT YOU DO IN YOUR DAILY ROUTINE? TELL US ABOUT YOUR MORNING RITUALS, YOUR DAY TO DAY LIFE, HOW YOU WORK YOUR PRACTICE INTO IT?
I live in Albury and I like to start the day by taking the dog for a walk, either up Nail Can Hill (local bushland) or down by the River. Although some days it may be later depending on life. I find by starting the day getting out into nature gives me a time to pause and connect to the landscape. It helps to clear my head before beginning the day in the studio... it also keeps Ruby the dog happy!
HOW DID YOU START YOUR PRACTICE, AND WHY?
I've always loved art but hadn't picked up a paintbrush since high school, until I enrolled in TAFE back in 2015 when I spent two years studying Visual Arts. Moving back to my childhood town of Albury gave me the opportunity to pursue this and begin to focus seriously on my artistic practice.
HAVE YOU GOT A STUDIO/CREATIVE WORKPLACE? TELL US A BIT ABOUT WHERE YOU CREATE AND SOME OF THE SIGNIFICANT THINGS THAT SUPPORT AND INSPIRE YOUR PRACTICE...
I have a studio in the granny flat in the backyard. It gives me flexibility to work and still do the running around after the kids. It is a good sized space with a large window that looks out to the garden, sky and into the street and the huge plain trees. It helps to keep me connected to the outside.
WHAT ARE SOME OF THE IDEAS THAT YOU EXPLORE IN YOUR WORK?
My local landscape is a constant inspiration. By immersing myself in it and taking the time to slow down and focusing on my senses, I hear the birds, observe the kangaroos, see and hear the wind in the trees. I love the changing weather, seasons and different times of day and the effects of these times on light. It all feeds into my creative process when I'm in the studio.
CAN YOU TELL US A BIT ABOUT THE MEDIUMS THAT YOU HAVE CHOSEN TO WORK WITH? WHAT CAN AUDIENCES EXPECT FROM THE ARTWORKS PRESENTED?
The more time I spend in nature, the more it affects my everyday and artistic practice. Winter came early this year and it definitely influenced my colour palette. The paintings in Crossing Paths are more subdued and moody than my previous exhibitions, with a real winter feel to them. By utilising a darker palette and metallics, which I have recently been experimenting with, it helps to reflect this winter vibe as well.
NOW THAT YOU HAVE LAUNCHED YOUR FIFTH SOLO EXHIBITION IN 'CROSSING PATHS', WHAT IS NEXT FOR YOU?
I have been focused on this exhibition for the better part of a yea, so now it is launched I am excited to explore new environments, gain some fresh inspiration, and work on my next body of work.