river rainforest
lauren guymer
14 sept–1 oct 2023
River Rainforest is Lauren Guymer's new collection of landscape paintings on paper and clay inspired by her 2022 NSW road trip and residency at the Nancy Fairfax studio, Tweed Regional Galley. 
During her trip, Lauren immersed herself in the landscape, swimming in turquoise creeks and creating beneath the rainforest. Far from the crowds and surrounded by trees, these places are where she would rather be. Featuring tranquil rivers and meandering rainforest tracks, Lauren explores her connection to the natural world through layers of painted memories and reflections.
Also on exhibition for the first time are ceramic works that correlate and connect to her works on paper, and a collaboration with her sister and Northern Rivers artist, Suzanne Guymer. With Wollumbin as a central point, this collaboration celebrates their unique styles and shared experiences. 
Please join us for a drink to celebrate the opening of River Rainforest on Friday 15 September (6–8PM).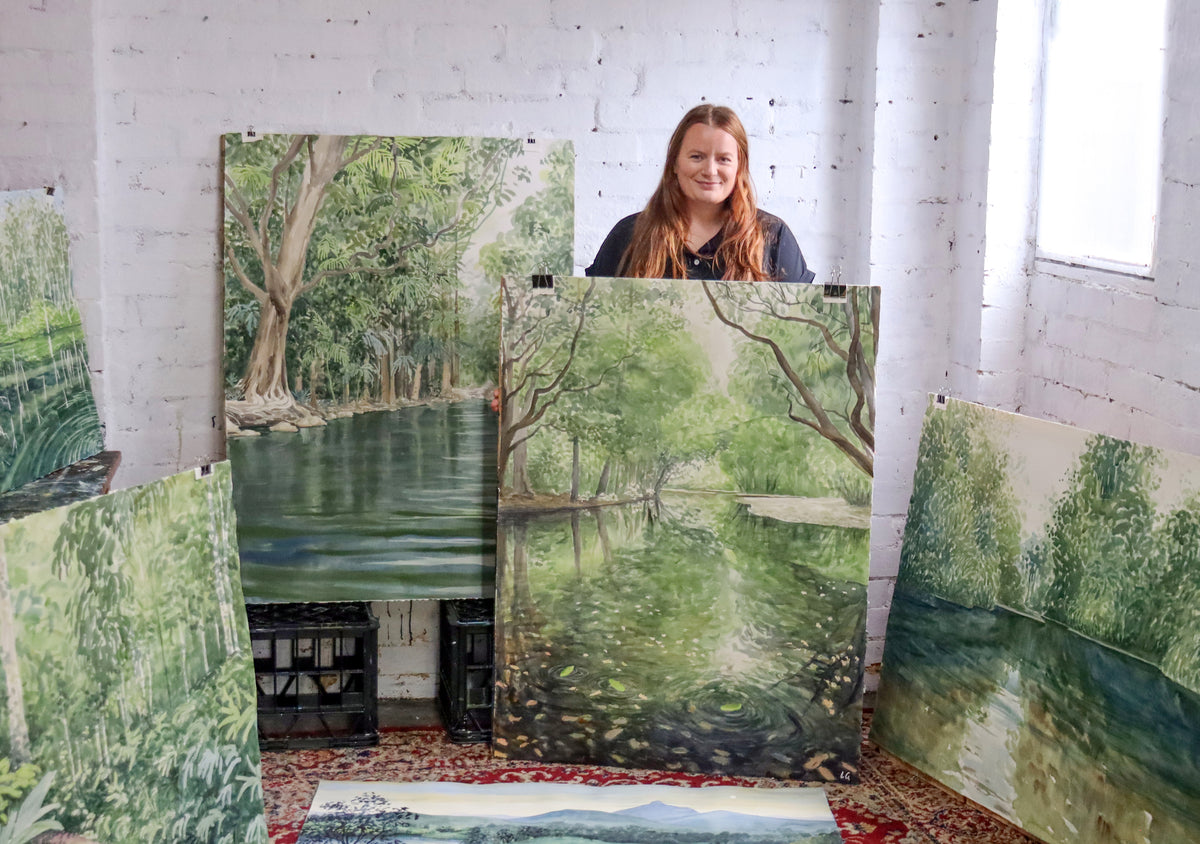 Lauren Guymer is an Australian visual artist living and working on Boon Wurrung / Bunurong country in Victoria. Born in Melbourne, Lauren graduated in 2014 with a Bachelor of Design before commencing her self-taught artistic practice in 2015. 

Lauren has held three solo exhibitions, including Among the Trees, at Mornington Peninsula Regional Gallery in 2021. She has been a finalist in prize shows, including the Paddington Art Prize 2022, Agendo Young Emerging Art Prize 2021, and SBS Landscape Prize 2020 & 2019. In 2023 she was selected for the Australian Watercolour Muster Biennale (Online) and had her works placed into collections at the Mornington Peninsula Regional Gallery and Southern Midlands Council. Lauren's practice has been furthered by opportunities to participate in artist residency programs in Australia and overseas. She also facilitates workshops and has curated a landscape group show, Under the Sun, in 2021 at CSC Gallery.