kalawan kantri
ngukurr arts
16 november–3 december
"La Ngukur Arts mela garrim difrendifren stail bla dumbat mela peinting bat mela holot leigim yusim olkainbala kala. Im meigim mela wanbala. Dumaji la mela, mela kantri im burdiwan. Im Kalawan Kantri."
"At Ngukurr Arts we all have different styles of painting but we all like using different colours. It brings us together. Because to us, our country is beautiful. It's a Colourful Country."
Presented by BSG Projects and Ngukurr Arts, Kalawan Kantri celebrates artists of Ngukurr community, South East Arnhem Land (NT). Located on the banks of the Roper River, Ngukurr is a dynamic community of many clans and language groups including Ngalakgan, Alawa, Mangarrayi, Ngandi, Marra, Warndarrang, Nunggubuyu, Ritharrngu-Wägilak and Rembarrnga. Renowned for their contemporary approach to artmaking–especially their striking and unorthodox colours–Ngukurr artists depict the richness of Country and their culture with an immense confidence and bold palette. From Wally Wilfred's fluorescent Mokuy Spirits to Jill Daniel's naive depictions of Kauboy Kantri (cowboy country) to Gwenneth Blitner's richly layered recreations of her Marra Country (mother's country), Ngukurr art represents some of the most exciting art currently being produced within Australia.
To immerse yourself in Kalawan Kantri is to get a glimpse into the magic of this small community, and how the artists see the world around them. Co-curated by renowned Ngukurr artist, author, illustrator and emerging curator, Karen Rogers, this exhibition explodes with colour, pattern, and design, exploring stories of the land and water and delving into the relationship between the artist and their spiritual country.
Meet the Curator Karen Rogers from 5PM Friday 17 November as she talks to us about life in Ngukurr and the unique way of artmaking in the region.
Please then join us for a drink to celebrate the opening of Kalawan Kantri on Friday 17 November (6–8PM).
ABOUT CO–CURATOR
KAREN ROGERS
"Main neim im Karen Rogers en mi burrum Ngukurr komyunidi. Sambala main atwek im bla dis kantri we ai bin grouap. Im bla mela laif la Roper en bla mela koltja."
"My name is Karen Rogers and I'm from Ngukurr Community. My artwork often shows the country where I grew up. It's inspired by our life in Ngukurr and our culture."
Karen Rogers is a renowned Ngukurr artist, author, printer and illustrator. She is also an emerging curator, having co-curated Our Country which presented the work of artists from 5 remote Indigneous Art Centres within Brunswick Street Gallery in June 2022.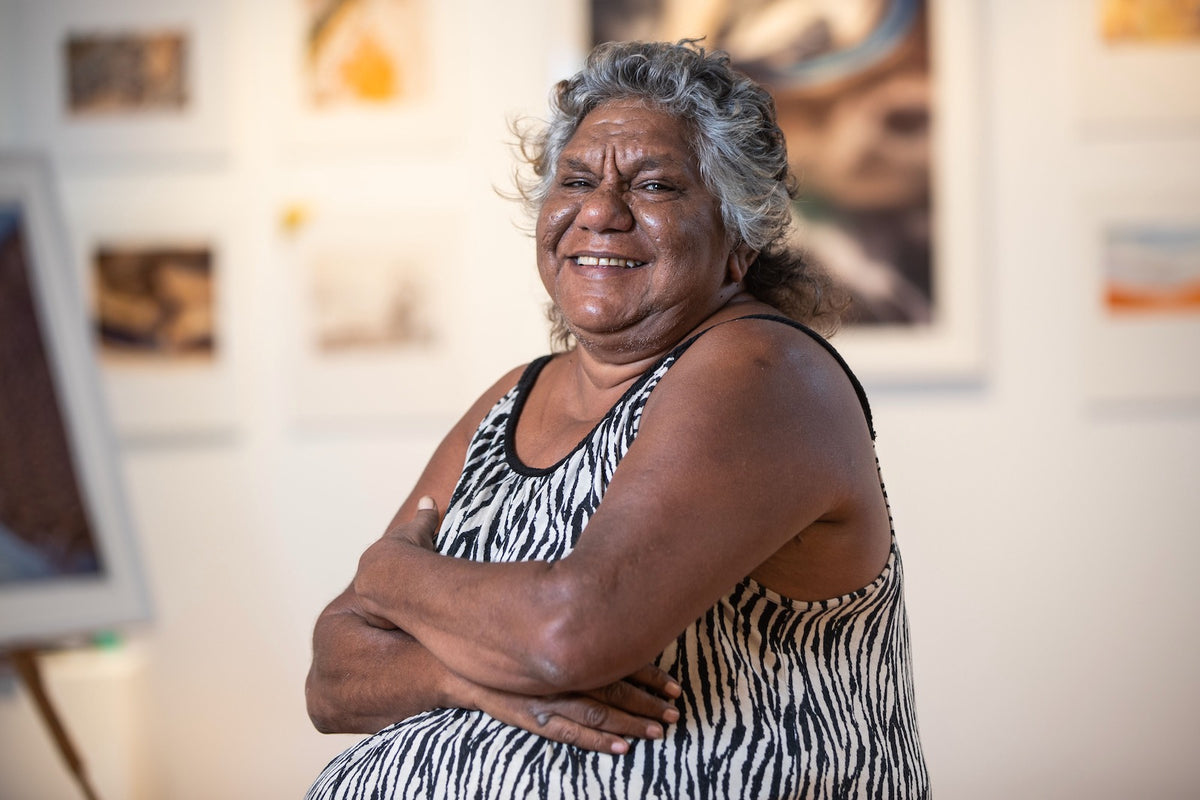 Kalawan Kantri is presented by BSG Projects and Ngukurr Arts.